Expert bartender serves up easy cocktails for Valentine's Day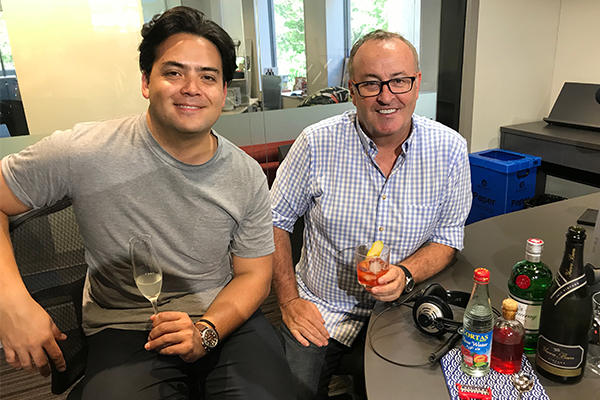 With the Hallmark holiday around the corner, score yourself some extra brownie points with these easy-to-make cocktails.
Expert bartender and Spirit Ambassador for Dan Murphy's, Charlie Ainsbury, joins Chris Smith live in the studio.
He demonstrates how to make two cocktails sure to impress a loved one on February 14.
Charlie tells Chris cocktails are a little more special.
"It comes down to a little more effort… You want to show them you care."
Click PLAY below to watch Charlie make the cocktails
Listen to the full interview below 
Below are the recipes
Rosé 75
30 ml Tanqueray Gin or 23rd Street Rose Vodka
15 ml fresh lemon juice
15 ml sugar syrup
60 ml sparkling wine
3 drops rose water
Shake first three ingredients and strain into a flute. Top with sparkling wine and rose water
Garnish with a rose petal
Chocolate Negroni
30 ml Johnny Walker Double Black
30 ml Campari
30 ml Sweet Vermouth
1 dash chocolate bitters or 5 ml dark chocolate liqueur
Prepare all in a bottle beforehand and chill
To serve, pour over ice and add a twist of orange peel