England not good enough – Farbrace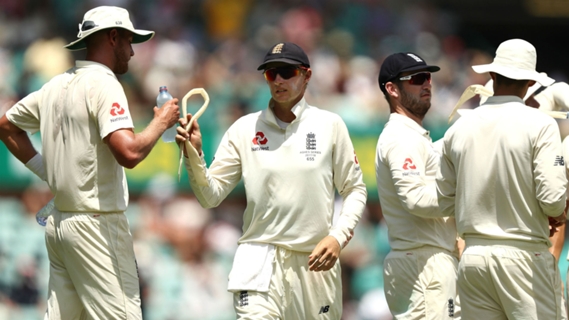 Paul Farbrace believes issues in England's team have been exposed in Australia and said it is vital they make plans for the next Ashes tour.
Assistant coach Paul Farbrace warned England cannot gloss over their Ashes failure after Australia continued to brutally expose their frailties on the fourth day of the final Test.
Marsh brothers Shaun (156) and Mitchell (101) made centuries on another painful day for the tourists in blistering heat at the SCG, where Steve Smith declared on 649-7.
Nathan Lyon struck twice as England were reduced to 93-4 at stumps on the penultimate day of the series, needing another 210 runs to make Australia bat again.
James Vince's place in the side will come under further scrutiny after he failed again, while Mark Stoneman was dismissed without scoring before Joe Root (42 not out) and Jonny Bairstow (17no) offered some resistance.
Farbrace offered a frank assessment of England's performance in the five-match series as they look set to suffer a 4-0 defeat.
He said: "In many ways the last few days have summed up our trip. We just haven't been good enough with the bat to get 450-500.
"We've talked a lot about getting in good positions, about how we've had glimpses or sessions where we've played good cricket. But we haven't been good enough over the course of a day, or an innings, to put Australia under pressure. We're constantly chasing the game."
Farbrace stressed the importance of holding an inquest into another drubbing or risk suffering the same fate on their next Ashes tour.
"A series like this does expose issues in your team. And we have a choice. You either churn out some positive stuff or we can be honest and admit that there are certain areas that are not good enough," he added.
"That's every single one of us: players, staff, structures, setup. Everybody needs to look very closely and ask if we have got the right people in the right places, and if we are doing the right things.
"There's no point me sitting here chatting about some niceties like some nice periods of play. Nice periods of play and brief glimpses do not win you Test matches and they certainly don't win you Test series in a place like this.
"If England are serious about coming back here and winning in four years' time, the planning needs to start in the next couple of days.
"You need to start identifying the type of personnel that you need, character-wise and skill-wise, to come here and win. The honesty and planning for next time has got to start as soon as possible."