Door-to-door campaign to vaccinate Queensland's least-protected community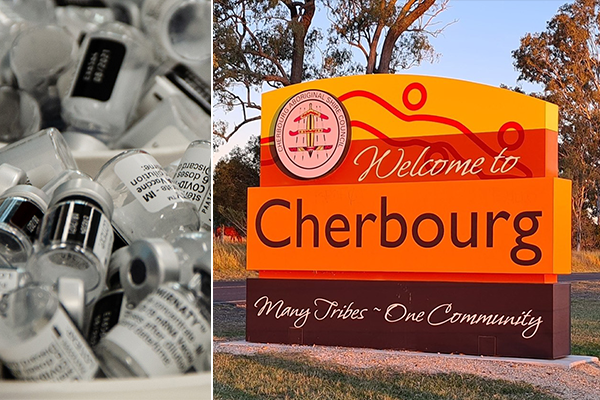 Health authorities are door knocking in Queensland's least-protected community to supercharge vaccination rates. 
The latest local government area vaccination data revealed Cherbourg's rates are lagging behind, with less than 26 per cent of its residents fully vaccinated.
This weekend is the last date to ensure you're fully vaccinated before the state's borders are reopened on December 17.
The Cherbourg COVID-19 vaccination team hit the streets yesterday, offering free Pfizer to anyone over 12 years of age.
Acting Deputy Commissioner and Vaccine Operations Coordinator Shane Chelepy told Neil Breen there's been "a lot of hesitancy" in the region.
"There was a lot of stuff on social media about the vaccine and how it's 'not safe', which is totally untrue."
Authorities are explaining the vaccine's safety to residents and debunking myths, the Acting Deputy Commissioner added.
"We saw a fair take-up rate from that door-to-door yesterday."
Press PLAY below to hear more on the Cherbourg operation 
Today entertainment reporter Brooke Boney, a Gamilaroi/Gomeroi woman, added her voice to the calls to get vaccinated.
"The thing that's really concerning is we've got all these underlying health issues that mean we already have a much higher predisposition to be negatively affected by this," she told Neil.
"It isn't just about you, it's about protecting our nans and our babies, who are way more vulnerable when it comes to this insidious virus than what we are.
"The best person to speak to is your health professional."
Press PLAY below to hear Brooke Boney's message to listeners 
Image: Cherbourg Aboriginal Shire Council / Facebook