Comedian's disgusting attack on Ray Hadley's charity efforts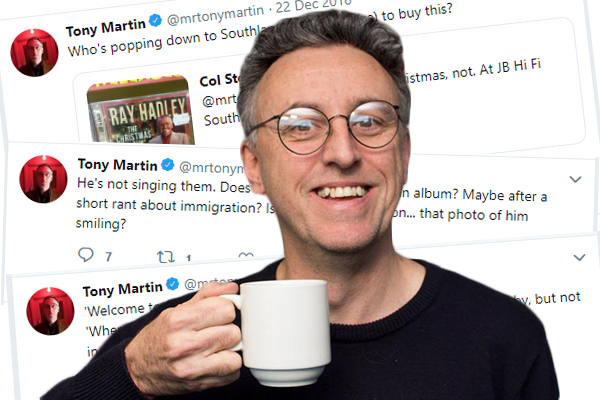 Ray Hadley has hit back at a Melbourne comedian who used social media to repeatedly attack his charitable efforts.
Tony Martin took to Twitter on December 22, mocking Ray's Christmas album which is raising money for the fight against Motor Neurone Disease.
In fact, it's Ray's 10th compilation CD helping fund Professor Dominic Rowe's research into the insidious disease.
A charitable effort that has raised more than $300,000 to date.
Who's popping down to Southland (in Melbourne) to buy this?https://t.co/EbpP3zBBtE

— Tony Martin (@mrtonymartin) December 22, 2018
'Welcome to Southland, sir.'
'Where would I find an abum of assorted Christmas songs, presented by, but not in any way connected to, a right-wing shock jock from Sydney?'
'Security!'

— Tony Martin (@mrtonymartin) December 22, 2018
Several people replied to Martin's Tweets, informing him profits from the CD goes to charity.
The were ignored by the comedian and even attacked by Martin's followers.
Umm… the money from them goes to a charity for Moto Neuron( spellcheck) disease… I don't think he should be lambasted over that.

— For PeachyPete Sake (@PeteOliver15) December 22, 2018
Just a short note to say the proceeds from the sale of that cd goes to the research into motor neurone disease.

— Nathan Stokes (@tractorsmurf) December 23, 2018
Now Ray Hadley has had his say after returning from his Christmas break.
"I hope that some decency prevails here when he understands that I've never made a cent out of the sales of the CDs.
"Despite the fact that he doesn't know me but despises me, perhaps he'll turn things around and encourage whatever people may follow him on social media to go out and buy the CD, because it's for a particularly good cause."
Click PLAY below to hear Ray's comments in full