Childcare workers launch nation-wide strike to push for more pay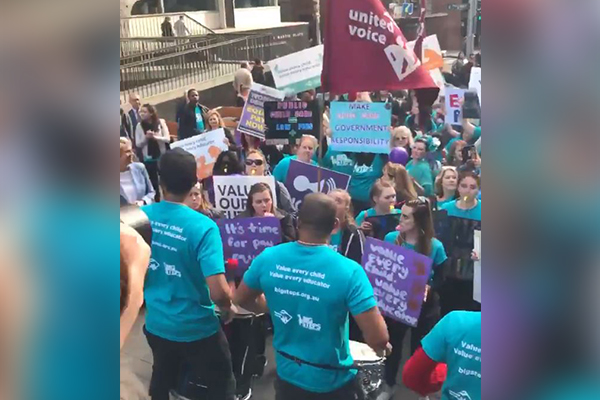 Thousands of childcare workers have walked off the job today as they push for higher wages.
Around 7,000 workers went on strike on Wednesday afternoon, with some holding rallies around the country.
It's the fourth walk-off the sector has seen in eighteen months.
The striking workers say their wages are too low at $22 an hour, and they want the federal government to come to the table.
Assistant National Secretary of United Voice Helen Gibbons tells Ross Greenwood early childhood educators didn't want to walk off the job but had no other option.
"Early educators have been really frustrated that this federal government refuses to come up with any solutions, refuses to negotiate, refuses to even really meet with them and talk about solutions to this problem.
"And they've been driven to be taken such extreme action by this government failing to act."
Early childhood educators rallying in #MartinPlace, continuing push for better pay. It's the fourth time they've gone on strike in 18 months @2GB873 pic.twitter.com/RvdTXxLdiL

— Emily O'Brien (@EmilyC_OBrien) September 5, 2018
Ms Gibbons says there needs to be a "shift" in government funding, not how much parents are expected to pay.
"Parents are already paying an extraordinary amount of money for childcare.
"If the government funded this sector properly then people could be paid properly."
Click PLAY below for the full interview