Bushfire updates: Rolling coverage from across NSW and QLD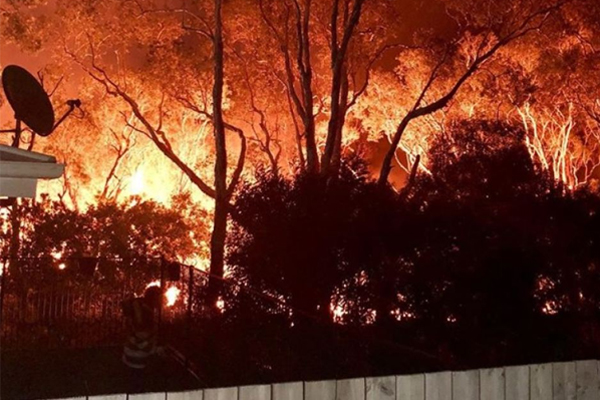 The bushfire emergency across New South Wales and Queensland is being described as a national emergency, as dozens of homes are lost.
More than 130 fires are burning across both states, with six main blazes being tackled by thousands of firefighters.
Alan Jones says the federal government needs to stand up and take control, immediately.
"We need a statement today from Scott Morrison and Anthony Albanese together, to join forces to recognise that this is a national disaster.
"If rural Australia goes down, we go down with them. It's a terrible prospect and we're only in September."
Alan has provided rolling coverage of the emergency, see the latest updates from each region below.
NSW
There are 55 fires burning across the state, 21 of them aren't contained, with more than 600 firefighters deployed to fight them.
There are three main fires burning, two at Watch and Act, which are threatening homes.
The Bees Nest Fire, near Armidale, is burning close to homes and properties in the Billys Creek area, on the northern side of the fire.
The Drake Fire, near Tenterfield, has burnt through 40,000 hectares and destroyed at least nine homes and 19 outbuildings.
The Shark Creek 2 Fire, near Yamba, has an Advice level warning as the immediate threat to properties has eased.
NSW RFS Deputy Commissioner Rob Rogers tells Ray Hadley the fires will be burning for weeks to come.
"They're just massive and the amount of fires that we've got up there is just extraordinary.
"It's just a huge amount of fire and these are going to take weeks to try and get some containment on them.
"With these winds, it's just proving really, really problematic."
Click PLAY below to hear the latest update
Mr Rogers tells Steve Price fire weather will return next week.
"So it will be a bit of a race against the clock for us to try and get some level of containment before we return to bad fire weather again."
Click PLAY below to hear the update
Amanda, the licensee of the Lunatic Hotel in Drake, tells Ray Hadley many homes have already been lost and the fire is rapidly heading for the town.
"It's twice the size at the moment of the February fires, and that went for 15 to 16 days."
She says former prime minister Tony Abbott is currently on the fire line volunteering with the Northern Beaches Rural Fire Service. 
Click PLAY below to hear the full interview
QUEENSLAND
More than 80 fires are continuing to burn across the state, with dozens of homes lost.
The main concern has been the blaze on the Sunshine Coast.
Queensland Fire and Emergency Services Assistant Commissioner John Cawcutt tells Ray Hadley they are starting to get things under control.
"If conditions stay the way they are, we're in a reasonable situation.
"The amount of damage was not as bad as what was feared originally."
Click PLAY below to hear the full update
NOOSA + SUNSHINE COAST
Hundreds of residents have been evacuated overnight as a major bushfire threatened more than 360 homes.
More than 100 firefighters managed to limit the destruction, with one home destroyed, another severely damaged and four others sustaining moderate damage.
QLD Police are speaking to a group of teenagers who are believed to be responsible for starting the fire.
Acting Sunshine Coast Mayor Tim Dwyer tells Alan Jones locals are terrified.
"The looks on their faces last night of anguish and uncertainty was a really telling sign."
Click PLAY below for the latest update
Queensland Fire and Emergency Services Assistant Commissioner John Bolger tells Steve Price Peregian Beach residents are being told to leave immediately.
"Because of the wind shift and the terrain that the fire is coming out of we're in a precarious position there.
"The fire is not expected to hold within its containment lines."
Click PLAY below for the latest update
GOLD COAST HINTERLAND
Parts of the Gold Coast Hinterland are still under threat from a fire that has already destroyed 11 homes and burnt through more than 15,000 hectares of land.
Scenic Rim Mayor Greg Christensen tells Alan Jones, they're keeping a close eye on the weather today.
"We did further evacuations overnight. No more loss of property. This morning, we're waiting to see whether the wind comes strong again."
Click PLAY below for the latest update
STANTHORPE + APPLETHORPE
A fire is continuing to burn at Ballandean, south of Stanthorpe, but the warning level was downgraded from Watch and Act to Advice overnight.
Southern Downs Mayor Tracey Dobie tells Alan Jones the winds yesterday were horrendous.
"The area was evacuated yesterday afternoon. The situation has settled a little this morning."
Click PLAY below for the latest update
Image: Instagram