Bushfire threat far from over despite easing conditions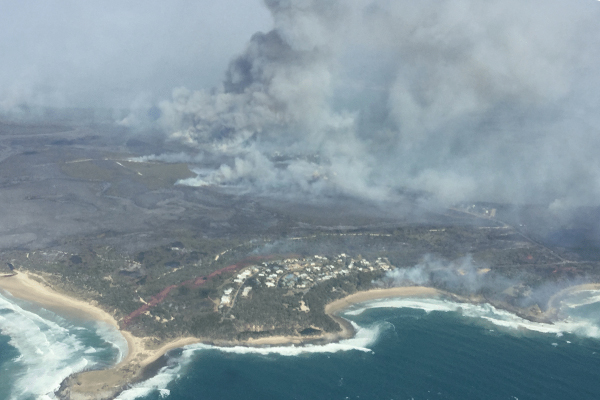 Bushfires are continuing to burn across New South Wales and Queensland, but easing conditions have downgraded the threat for now.
More than 120 fires are still burning across both states, with 29 homes destroyed as well as dozens of outbuildings.
Conditions have eased today but firefighters are racing the clock before they're forecast to get significantly worse next week.
NSW
All three major bushfires have now been downgraded to "Advice" level, for the first time in a week.
The blazes near Tenterfield and Armidale are still burning out of control near properties but conditions have eased significantly.
The fire near Yamba has also eased following the efforts of firefighters on the ground as well as continuous aerial water and retardant drops.
NSW RFS Inspector Ben Shepherd tells Alan Jones the blazes could flare up at any moment.
"That is still possible. It is extraordinarily dry out in these areas.
"Any slight increase in the wind and we are seeing these fires move and move quite quickly.
"A huge amount of work to do and we won't have these fires contained before the onset of that bad weather next week."
Click PLAY below to hear the full update
QUEENSLAND
More than 60 fires are still burning across Queensland, including the most concerning of them on the Sunshine Coast.
The Peregian Beach blaze remains at a "Watch and Act" level but fire crews have managed to slow its progress as weather conditions improve.
BREAKING: Barriers have been lifted, allowing residents to return to their homes in Peregian Beach and surrounds. @NewsTalk4BC @2GB873

— Anthony Laughton (@arlaughton) September 11, 2019
QFES Acting Deputy Commissioner John Bolger tells Alan Jones a Boeing 737 Air Tanker has had a massive impact.
"We borrowed that from New South Wales yesterday and it did absolutely wonderful.
"It just laid that line of retardant with pinpoint accuracy and it certainly saved a multitude of houses."
Click PLAY below to hear the full update
Queensland police have established a special taskforce to investigate eight suspicious blazes across the state.
Three teenagers have been questioned after allegedly admitting online they were responsible for Sunshine Coast bushfire which destroyed two homes.