Bruce Highway comes to standstill following truck and motorcycle crash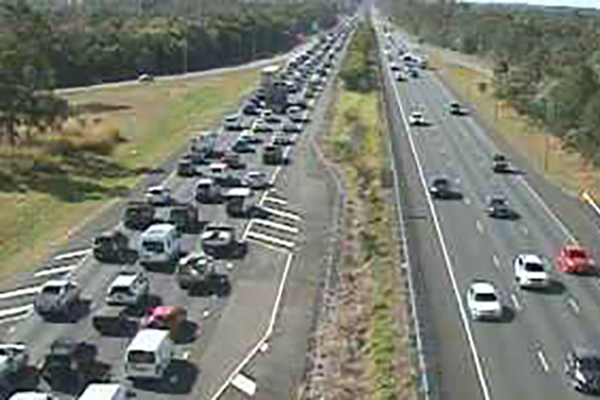 Northbound traffic is back to Burpengary on the Bruce Highway following a serious crash.
A motorcycle has collided with a truck on an off-ramp at Caboolture, which caused all northbound lanes to be closed for a time.
They have since reopened, but 4BC traffic reporter Rhys Messenger says there's eight kilometres of delays in either direction.
One patient has been transported to the Royal Brisbane and Women's Hospital in a critical condition.
It comes after traffic pains on the same highway earlier this morning.
A van consumed by fire caused kilometres of delays for commuters on the Bruce Highway earlier this morning.
The vehicle came to a stop around 1.5 kilometres before the Caloundra exit in Landsborough.
Plumes of smoke were seen spilling from the van, which was extinguished by a Queensland Fire and Emergency crew.
Northbound lanes were blocked to allow fire trucks to pass through, which caused traffic to be backed up around 13 kilometres.
Image: Department of Transport and Main Roads