Brisbane mayor comes down hard on Extinction Rebellion protesters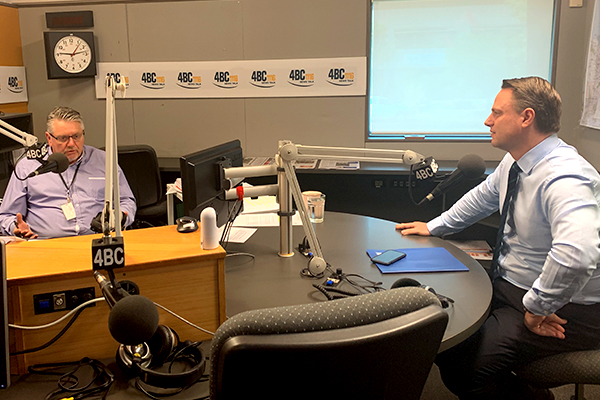 Brisbane Lord Mayor Adrian Schrinner has made clear he won't be tolerating the disruptive activities of climate activists.
Steve Price noted many protesters have been given "a slap on the wrist" from the courts.
"Does it infuriate you… that your city is held to ransom by these people?" he asked the Lord Mayor.
"It doesn't just infuriate me… it infuriates the people of Brisbane. The rights of the protesters seem to be more important than the rights of people wanting to move around their city, get to appointments, get to work, get the kids to school. "
Extinction Rebellion's latest action saw them clash with tradies who are working on upgrades to a Brisbane private school. The incident on Thursday was attended by eight police officers.
Mr Schrinner also criticised the actions of Greens councillor Johnathan Sri, who came under fire earlier this year for allowing Extinction Rebellion to use his office to plan civil disobedience activities.
"They were training people on how to break the law, using council facilities! We had to put a stop to it."
Click PLAY to hear the full interview
With 1300 new residents settling in Brisbane each month and an election around the corner, Mr Schrinner reiterated his support for the city's continued growth.
"We're focused on the things that matter to Brisbane residents… building infrastructure, upgrading our roads and public transport, creating more parks, bigger parks, investing in our parks, investing in our lifestyle, making sure that Brisbane keeps getting better in the future."