Brisbane CBD 'held to ransom' by 'extremist' protesters… again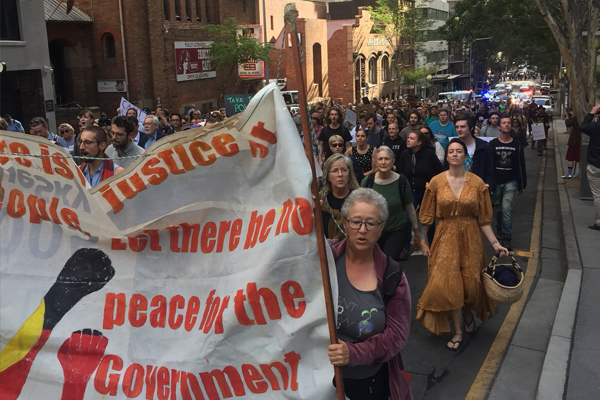 Image: Twitter/Jess Millward
About 200 protesters have shut down the Brisbane CBD, rallying against the state government's proposed laws to crack down on protesters.
Environmentalists have caused traffic chaos more than 10 times this year with today's march down Queen Street to Parliament House drawing the largest turnout so far.
Group now on the move https://t.co/Wk4cnziYb0

— Jess Millward (@JessMillward9) August 27, 2019
Brisbane City Council tried to stop the protest from going ahead but had its case thrown out by a magistrate yesterday.
The permit was lodged by notorious Greens Councillor Jonathan Sri who says climate change is a bigger inconvenience than traffic.
A significant amount of police resources have been put in place to guide the group safely along their march.
There is protest activity occurring in the Brisbane CBD this morning. Some roads including George Street are closed to traffic. Commuters are urged to use public transport. #bnetraffic pic.twitter.com/dFJDNO5HKn

— Queensland Police (@QldPolice) August 27, 2019
Brisbane Lord Mayor Adrian Schrinner says, "the people of Brisbane are fed up with it".
"Blocking the traffic, causing disruption as they are deliberately trying to do repeatedly in the city.
"These aren't just ordinary environmentalists here. These are right at the extreme fringe, willing to take extreme measures."
Mayor Schrinner tells Alan Jones the proposed laws have nothing to do with stopping free speech.
"We absolutely support the right to protest… it's when they do it and how they do it which is important here."
Alan says people "have had a gutful".
"The Brisbane CBD is being held to ransom by a group of reckless protesters."
Click PLAY below to hear the full interview