UPDATE | New exposure sites listed after COVID-19 case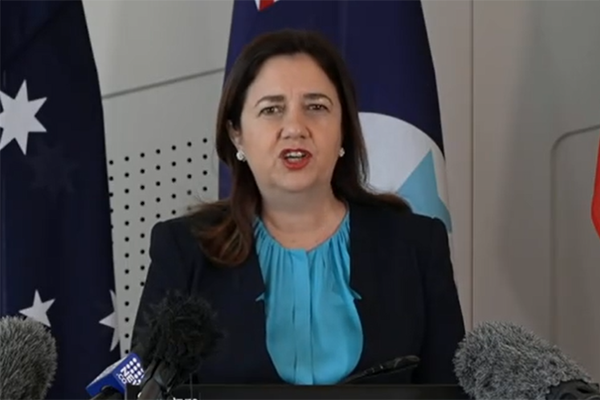 Authorities have confirmed Brisbane's mystery COVID-19 case is the highly contagious UK strain.
The 26-year-old tradesman from Stafford tested positive late last night and is believed to have been infectious in the community since Friday, March 19.
He was admitted to the RBWH overnight.
It's also been confirmed to be linked to a cluster from 2 weeks ago, when the PA Hospital doctor caught the virus from a patient.
Queensland Chief Health Officer Dr Jeannette Young said it's believed there is one "unidentified intermediary" who had passed the virus onto the man.
"We will know more in the next 24 hours, but in the meantime, those identified as visiting the locations in today's Public Health Alert should immediately get tested and isolate until you receive your results.
"Additionally, anyone identified as a close contact will be contacted by the Public Health Unit and required to quarantine."
From 12pm today, aged care, hospitals and prisons will be closed to the public in the Brisbane City Council and Moreton Bay Regional Council areas.
Dr Young requested people in a crowded area, such as entering stadiums for sports game or on public transport, wear a mask.
Everyone who has been to a contact tracing location is asked to come forward for testing.
Additionally, anyone in Brisbane and Moreton Bay who develops symptoms should be tested and isolate immediately.
Anyone who has been in the below locations during these times is asked to immediately get tested and isolate until receiving a negative result:
Saturday 20 March
12:00pm – 2:16pm – Shops at Westfield Carindale Shopping Centre including Shinobi Ramen Noodle Shop, Fresh Sensations, Go Vita, Robins Kitchen, Harris Scarfe and Kmart, 1151 Creek Road, Carindale
2:45pm – 3:00pm – Market Organics (store only), 190 Enoggera Road, Newmarket
9:20pm – 9:25pm – Baskins Robbins, 2/489 South Pine Road, Everton Park
Sunday 21 March
10:30am – 10:46 am – Genki Mart, 3/24 South Pine Road, Alderly
12:30pm – 3:10pm – Mamma's Italian Restaurant, 69 Redcliffe Parade, Redcliffe
12:20pm – 12:25pm – Guzman y Gomez Stafford (drive through), 400 Stafford Road, Stafford
Monday 22 March
12:40pm – 12:50pm – Bunnings Stafford, 450 Stafford Road, Stafford
Thursday 25 March
8.30am – 8:45am – Aldi Stafford, Stafford City Shopping Centre, 400 Stafford Road, Stafford
11:15am – 11:40am – Nundah Respiratory Clinic, 1270 Sandgate Road, Nundah
The following venues have been classified as low risk venues with people who attended asked to monitor their health and immediately get tested if they get any COVID-19 symptoms:
Saturday 20 March
12:00pm – 2:16pm – Other parts of Westfield Carindale Shopping Centre, 1151 Creek Road, Carindale
Sunday 21 March
9:50am – 10:20am – Gasworks Plaza, 76 Skyring Terrace, Newstead
Monday 22 March
7:55pm – 8:00pm – KFC (drive through), 6 Griffith St, Everton Park
Premier Annastacia Palaszczuk said there is no cause for alarm at this time.
"Go about your normal business but be a bit more cautious," Dr Young added.
A further six overseas-acquired cases were recorded in hotel quarantine.
Press PLAY below to hear an update on Queensland's coronavirus response 
Image: Nine News