Border Force investigating dodgy truck company behind McDonald's crash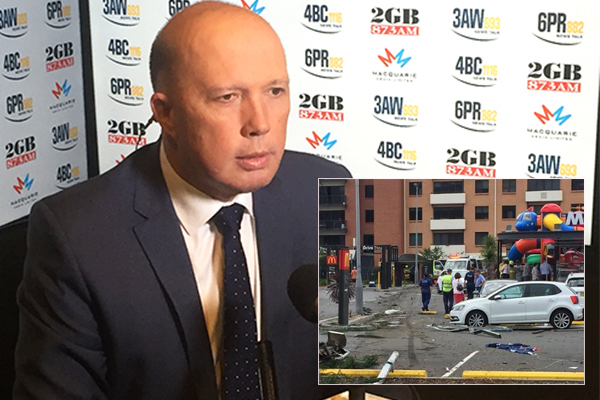 Home Affairs Minister Peter Dutton has launched an investigation into the trucking company behind a horror smash at a Wollongong McDonalds.
On Monday, a truck belonging to Hari Om Transport lost control and ploughed through the drive-thru at Fairy Meadow and into a block of units.
The RMS found the vehicle had major defects, including faulty brakes.
All 10 of the company's trucks have since been found to have defects.
But that's not where the drama ends.
A whistleblower has contacted Ray Hadley, claiming the company is employing Indian student visa holders, paying them $12 an hour and making them work more than the allowed 20 hours a week.
The Home Affairs Minister tells Ray he's directed the Australian Border Force to investigate the matter.
"If students are exploited, workers are being exploited, people are doing the wrong thing, then that's right within their area of responsibility," he says.
"That investigation is underway, as it should, given the nature of the serious allegations."
Mr Dutton says anyone breaking the rules will face the consequences.
"In some cases, people will have their visas cancelled and they'll leave the country.
"In other cases, employers will be charged with exploiting those workers or acting outside the laws."
Click PLAY below for the full interview with Peter Dutton
The claims are also being investigated by the NSW Transport Workers Union (TWU).
The union's secretary Richard Olsen tells Ray, "we're going to be doing everything with our powers… to find out exactly what's occurring."
Mr Olsen says it's not rare for workers to be underpaid and exploited in the transport industry.
"All the way through, Ray, everyone loses.
"One day we'll some real injuries on our roads."
Click PLAY below for the full interview
RELATED