Australian golfer Jarrod Lyle dies, age 36: Read his final message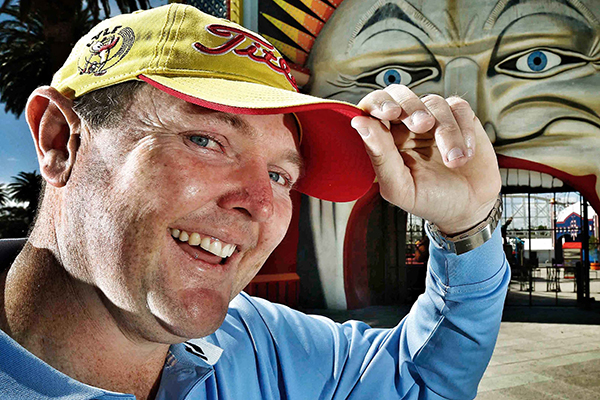 Australian golfer Jarrod Lyle has passed away, 10 days after entering palliative care.
Lyle was first diagnosed with acute myeloid leukemia leukaemia at the age of 17 and has since beaten it three times.
This time though, the treatment became too much.
In a public statement, his devastated wife Briony says Jarrod was surrounded by family and friends at the end.
"He passed away peacefully at 8.20pm last night having spent his final week in Torquay among his family and close friends."
Jarrod was 36-years-old and is survived by Briony and daughters Lusi, 6, and Jemma, 2.
There will be a public memorial service at Torquay, with a date to be announced later.
The public is urged to donate to Challenge rather than send flowers.
The following is a statement from Briony Lyle:
"It breaks my heart to tell everyone that Jarrod is no longer with us.

"He passed away peacefully at 8.20pm last night having spent his final week in Torquay among his family and close friends.

"Lusi, Jemma and I are filled with grief and now must confront our lives without the greatest husband and father we could ever have wished for.

"At the same time, we have been blessed and overwhelmed with the messages and actions of support from around the world and feel comforted that Jarrod was able to happily impact so many people throughout his life. Our humble thanks to you all.

"Jarrod was able to take in many of the unbelievably kind and generous acts and words in his final few days and was overwhelmed by the emotional outpouring.

"He asked that I provide a simple message: `Thanks for your support, it meant the world. My time was short, but if I've helped people think and act on behalf of those families who suffer through cancer, hopefully it wasn't wasted.'

"We will hold an intimate and private family service in the coming days.

"There will be a public memorial service at The Sands in Torquay at a date to be announced later.

"As per Jarrod's wish, please donate to Challenge in lieu of gifts or flowers."
It is through a river of tears I say goodbye to my friend Jarrod Lyle. A wonderful father, friend and golfer. Quick with a joke, didn't mind a beer, and just a pure joy to be around every day. Miss you mate. RIP

— Greg Chalmers (@GregChalmersPGA) August 8, 2018
Such a sad day, we will all miss you so much Jarrod. Thinking of his family at this time. #RIPJarrod #BucketHat 💛💛💛 https://t.co/IeGeIbFk2b

— Justin Rose (@JustinRose99) August 8, 2018
We are sad to inform our audience that Jarrod passed at 8.20pm last night. Rest in peace, mate. https://t.co/HTudqeEVCY

— Golf Australia (@GolfAust) August 8, 2018
Image: Michael Klein