Australia goes nuclear in landmark alliance to counter China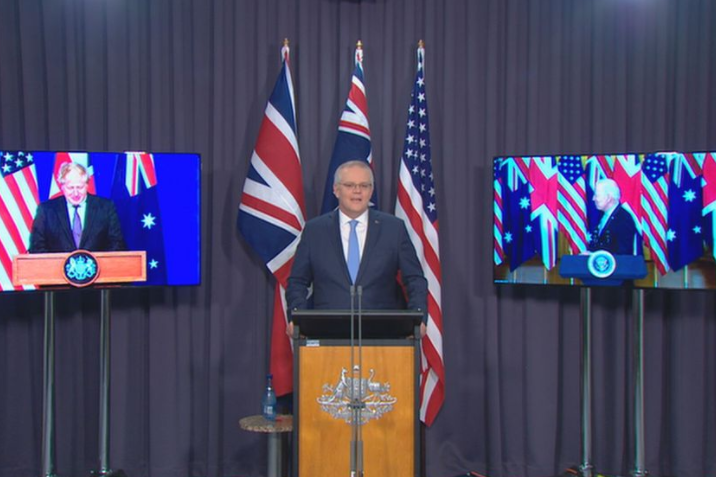 Australia will gain a fleet of nuclear-powered submarines under a landmark new trilateral security pact with the United States and Britain, which will counter Chinese influence in the Indo-Pacific.
Federal ministers were called into a top secret meeting in Canberra last night ahead of the announcement.
Unusually, Labor leader Anthony Albanese and three senior shadow ministers were also in attendance.
The pact, known as AUKUS, will see the US and UK help Australia to develop a conventionally-armed nuclear-powered submarine capacity.
The submarines will be built in Adelaide.
The arrangement will allow the three nations to share information and technology including artificial intelligence, cyber capabilities, quantum technologies and undersea capabilities.
The three countries are expected to shift their submarine and warship presence to counter China's increasing regional presence north of Australia and in the highly-contested South China Sea.
Announcing the landmark deal, Prime Minister Scott Morrison said "Our world is becoming more complex, especially here in our region – the Indo-Pacific. This affects us all".
US President Joe Biden says the alliance is about updating alliances to "meet the threats of today and tomorrow".
Press PLAY below to hear the full press conference
Nine News political editor Chris Uhlmann told Neil Breen the deal is "all about China, and the Chinese will certainly take it that way".
"They'll certainly react.
"This gives them something to be angry about, so no doubt, another furious denunciation from Beijing on Australia."
Press PLAY below to hear Chris Uhlmann break down the landmark pact 
Image: 9News/WH.gov