Alan Jones broadcasts from the bush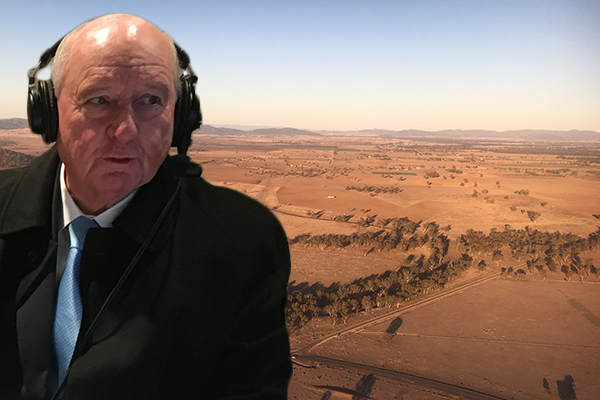 As the drought worsens, Alan Jones has packed up his show and taken it to the bush.
Broadcasting from tiny little Mullaley, near Gunnedah, about six hours north-west of Sydney.
This place is the heart of Australia and the epicentre of the drought crisis.
The farmers out here are on their last legs… doing everything humanly possible to keep their breeding stock alive and keep their families alive.
Alan has commended the generosity of the public, who have stepped up to help their fellow Australians.
But he's begging our politicians to do the same.
"Malcolm Turnbull, forget the next Newspoll, forget the picture opportunities. You are proving a crippled and impotent leader. Do something!
"Not for yourself Malcolm Turnbull, not for me, but for the nation. For the agricultural heart of this country.
"If I have to beg, well I'm happy to beg, and I'm begging now.
"It's two minutes to midnight. We're reaching the point of no return."
Click PLAY below to hear Alan's powerful introduction
Federal MP Barnaby Joyce came to town to throw his weight behind the farmers.
The member for New England has long been a voice for the bush in Canberra.
He admits the government and the Prime Minister, in particular, aren't doing enough to help.
Barnaby Joyce came to Mullaley to throw his weight behind the farmers.

He'll head back to Canberra with a strong message for Malcolm Turnbull https://t.co/0kdAVvTImD pic.twitter.com/wXb4ESOelh

— 2GB 873 (@2GB873) August 10, 2018
The former Agriculture Minister tells Alan Malcolm Turnbull and the Premiers of New South Wales, Queensland and Victoria need to meet in the same room.
"And then say, 'we're not going to leave this room 'til we have a plan across all levels of government'.
"And I think people would have a huge amount of respect for people in high office, for the Prime Minister, if they walked out and said, 'ok, this is what we're going to do, this is how we're going to go about it'."
Click PLAY below to hear the full interview
This broadcast could only be possible with the help of our sponsors: