'Absurd': Kristina Keneally engaged in fiery Twitter feud with Donald Trump Jr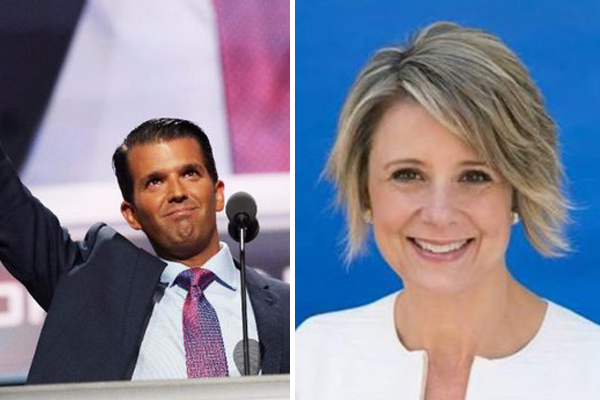 Labor Senator Kristina Keneally has become embroiled in a Twitter feud with Donald Trump Jr.
Senator Keneally yesterday called for the government to ban conservative speaker Raheem Kassam from entering the country.
Mr Kassam is scheduled to speak at the first local Conservative Political Action Conference in Sydney next week.
He's come under fire in the past for calling the Qur'an "fundamentally evil" and saying Scottish National Party leader Nicola Sturgeon should have her legs taped shut so she "can't reproduce".
Senator Keneally called the comments "completely outrageous" and "disgraceful", and called on Peter Dutton to revoke his visa.
But Donald Trump Jr, son of the American President, took to Twitter to call her views "insanity", starting a war of words between the two.
Mr Trump,

Please know that @ScottMorrisonMP's Government banned Milo Yiannopoulos from entering the country in March, David Icke in February, and Gavin McInnes in November last year.

Cheers
KK https://t.co/f4djm3gOeB

— Kristina Keneally (@KKeneally) July 31, 2019

Rita Panahi has slammed the Labor senator, telling John Stanley it's obvious she's just looking for publicity. 
"It is just so plainly absurd to call for this fella to be banned based on a couple of off-colour tweets that he's apologised for, and his belief system about Islam.
"He has rejected the religion and he's got every right to do so. Can you imagine Kristina Keneally taking a stand like this against a Christian who has rejected Christianity and the Bible?
"It would never happen in a million years."
She says the only thing that's been achieved by this whole debacle is extraordinary exposure for a conference that was previously unheard of.
"She's given this event the greatest publicity they could've hoped for… not only national coverage but international coverage."
Click PLAY below to hear the full interview