'Absolute tool' Nick Kyrgios has another major outburst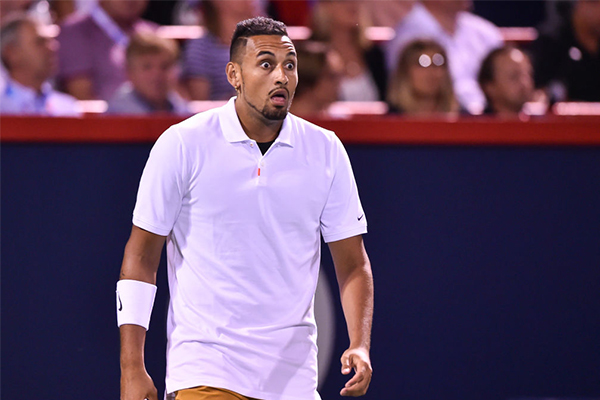 Controversial Australian tennis player Nick Kyrgios could be facing suspension after his latest blowup.
His second-round match at the Cincinnati Masters, which he lost in three sets, was full of outbursts at chair umpire Fergus Murphy over how much time he had to serve.
Kyrgios refused to shake the umpire's hand at the end of the match, instead calling him a "f****** tool" before spitting in his direction.
He also abused the umpire during the match, yelling "why do I have to put up with this potato in the chair?"
🗣️ "You're a f—ing tool bro!"

🗣️ "One of the craziest matches you're likely to see."

Nick Kyrgios wasn't quite gracious in defeat at the Cincinnati Masters. pic.twitter.com/fR0f3Ji71l

— ESPN Australia & NZ (@ESPNAusNZ) August 15, 2019

He even left the court at one stage after requesting a 'toilet break', where cameras caught him smashing two rackets against a wall in the corridor.
BANG, BANG!! 💥💥

Nick Kyrgios absolutely DESTROYED two racquets and the commentators lost it 😂 😂

Watch the Cincinnati Masters live on ESPN. pic.twitter.com/q2d2dTeND3

— ESPN Australia & NZ (@ESPNAusNZ) August 15, 2019
Image: Getty/Minas Panagiotakis