A very merry Macao Christmas!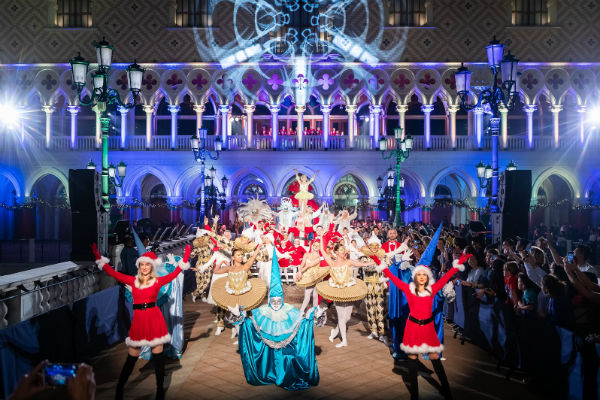 This historic former Portuguese trading post in southern China should be at the top of your Christmas holiday wish-list.
Twinkling trees, an enchanting atmosphere, a magical ice-rink and a visit from the man in red himself…If you want to experience the spirit of Christmas, then look no further than Macao this festive season. The Sands Hotel Group have pulled out all the stops to welcome the holidays and have transformed into breath-taking winter wonderlands. You can't fail to feel festive as you step into these world-class luxury hotels!
Where to stay
The award-winning Venetian is the most popular resort hotel in Macao. And it's easy to see why. Deluxe rooms with plush interiors and an unbeatable level of comfort means your stay in the city will be one of style. A range of restaurants cater to every taste and appetite with vegetarian options, happy hours and buffet selections as well as fine-dining and a la carte service. It's even the hotel of choice for the one and only Santa himself this Christmas! You'll be welcomed by a 50ft tree and the beautiful Venetian Express Christmas Train. Then the young and the young at heart can visit Santa at his grotto. A truly magical start to your holidays.
And as the Venetian is situated in the Cotai area, it's also perfectly placed for you to explore everything Macao has to offer.
What to see and do
Strap on your skates and take to the ice at The Parisian's fabulous ice rink. Kids and adults alike will delight in taking a turn round the rink. Why not indulge in a toasty hot chocolate and some mince pies afterwards? You deserve it after all that exercise!
There's nothing more Christmassy than a beautifully trimmed tree. And you'll find some of the world's finest in Macao!  At The Parisian, take time to admire the spectacular 50-foot inverted Christmas tree in the lobby area. The upside-down decoration was inspired by the tree at the Galerie Lafayette department store in Paris and is a modern take on the Xmas scene. For something a little more traditional, head to the Venetian to see the spectacular Longines Christmas Tree.
Decorated to perfection, you'll be stunned by its breathtaking boughs.
The Eiffel Tower's Grand Illumination Show light performance has been given a sparkly festive twist. Great for all the family.
Out and about in Macao  
Tear yourself away from the festive fun at the hotels and experience the unique East meets West culture Macao is famous for. Situated around an hour by ferry from Hong Kong and a four-hour flight from Beijing, and with a wealth of history, the city has a fascinating blend of European architecture and timeless traditional Chinese culture to discover. Explore cobbled streets, pristine colonial buildings and centuries old Chinese temples.
Festivals to celebrate
There's something for all ages in Macao this December. As well as the Christmas celebrations, the city is illuminated for the Light Festival. Many of the historical buildings are brought to life with light installations giving the city a whole new perspective after dark. You can also experience a slice of Hollywood at the Macao Film Festival.
Official ambassador and Academy award-winning actor Nicolas Cage will be in town to attend this glamourous event.
And if Christmas shopping is on your to-do list, the Macao Shopping Festival  has got you covered!
For more information about Macao at Christmas, head to www.visitmacao.com.au or why not contact Helen Wongs Tours www.helenwongstours.com to find more about the packages on offer to this unmissable destination.