Celebrity Psychic John Edward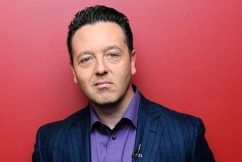 John Edward is a medium, author and lecturer and has, over the last three decades helped thousands with his  ability to predict future events.
In 2000, John pioneered the psychic phenomena genre with the television program Crossing Over with John Edward.  It was the first television show syndicated worldwide devoted to psychic mediumship and it would go on to run for four seasons.
John is one of the USA's foremost psychic mediums and the author of the critically-acclaimed, New York Times Best Sellers One Last Time, Crossing Over: The Stories Behind the Stories, What if God Were the Sun, After Life: Answers from the Other Side, Practical Praying: Using the Rosary to Enhance Your Life, Final Beginnings, Infinite Quest and Fallen Masters.
He joined Kayley Harris to talk about his life and upcoming tour of Australia.
Click PLAY to listen to the interview