Suspected killer's cousin breaks silence about missing mum Lyn Dawson's disappearance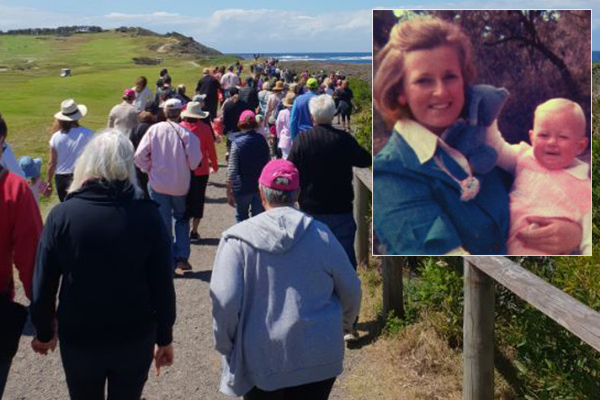 Beloved mother Lynette Dawson disappeared without a trace over thirty years ago and now her suspected killer's cousin has broken their silence.
The nurse and devoted mother of two daughters went missing in 1982 and hasn't been heard from since.
Two coronial inquests have determined that her husband, former rugby league star and school teacher Chris Dawson, is the killer but he's never been charged.
The Australian's award-winning podcast The Teacher's Pet has shone a light on Lyn's mysterious disappearance, revealing Chris moved his teenage lover and student into the family's home just days after his wife went missing.
Yesterday, Lyn's family members and friends – as well as hundreds of strangers who have been touched by her story – gathered at Long Reef Headland on Sydney's Northern Beaches to remember Lyn and continue a push for justice.
#walkforLyn Longreef Sydney 400 people to commemorate a life lost 30 yrs ago and push for justice! @2GB873 @NewsTalk4BC pic.twitter.com/m9it2SE3pS

— Chris Smith (@chrissmithradio) September 30, 2018
Even Chris Dawson's cousin Judy was in attendance, telling Chris Smith the missing mum would never have left her two daughters by choice.
"We knew Lyn very well growing up and I knew how much trouble she and Chris had to go through to have those two girls," she says.
"I knew that she was absolutely devoted to them and would never have left them for a day."
Judy says she's confident they will finally "get justice" for Lyn.
"I think with our new Police Commissioner… he's very dedicated to seeking justice and I think we'll see that for the family."
Click PLAY below to hear from Chris Dawson's cousin
Lyn's brother Greg Simms was present at the walk and tells Chris the search for Lyn is far from over.
"This is the boost. We've got her name out there. This is really day one."
The man behind the podcast series – Hedley Thomas – also spoke with Chris, telling him listeners feel a "sincere connection" with the missing mum and are desperate to see justice served.
"They want to make sure that Lyn's life was not a waste, that what happened to her is properly acknowledged and understood for her family and for the community and for future generations."
Hedley says he's been continuing the investigation and is set on maintaining the podcast's momentum.