'You may not live to be released': George Pell sentenced for child sexual abuse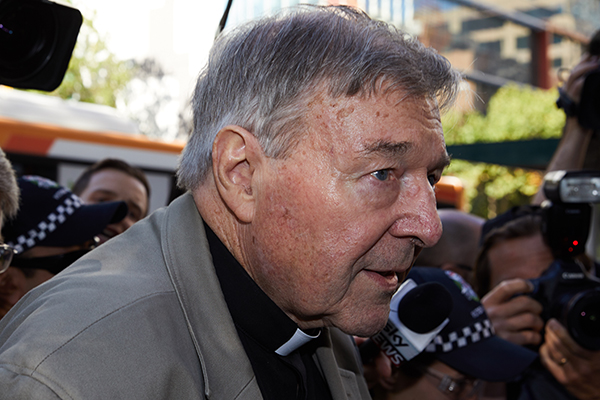 George Pell has been sentenced to six years in jail for the sexual abuse of two boys in the 1990s.
He will spend a minimum of three years and eight months behind bars and will be eligible for parole in November 2022.
Pell is the most senior Catholic official in the world to be jailed over child abuse.
The 77-year-old was Melbourne Archbishop when he sexually assaulted two 13-year-old choirboys in 1996 and was found guilty of five charges late last year.
Robert Richter QC arrives at County Court ahead of George Pell's sentence for sexually abusing two teenage boys @3AW693 pic.twitter.com/C0cRzlkwf1

— Kiara Parker (@Kiara_Parker_) March 12, 2019
The sentencing hearing in the County Court lasted for just over an hour.
Chief Justice Peter Kidd described Pell's abuse as "breathtakingly arrogant" and rejected much of the mitigating circumstances presented by the defence.
"There is no evidence before me that your mental state was impaired," he said.
"There is no evidence other than you were a competent and intelligent man.
"In my view it does not even approach low-end offending" – Chief Justice Peter Kidd
"I am conscious that the term of imprisonment which I am about to impose upon you carries with it a real, as distinct from theoretical, possibility that you may not live to be released from prison."
Click PLAY below to hear the full sentencing hearing
The Chief Justice did note that Cardinal Pell should not be made a scapegoat for the past crimes of the Catholic Church.
He also noted the offending contained "a degree of physical aggression and venom" but said it was not at the worst end of the scale.
"Had it been pre-planned or involved grooming it would have been more serious."
George Pell maintains his innocence, and a two-day appeal hearing against his convictions has been set down for the start of June.
The Chief Justice specifically addressed other victims of clerical sexual abuse during the sentencing, stating that "this sentence is not and cannot be a vindication of your trauma".
But President of the Blue Knot Foundation Dr Cathy Kezelman AM tells Chris Smith the conviction will inspire many to come forward.
"What it does show is that justice is served regardless of who you are."
She says the Blue Knot Helpline received more than double their average number of calls in the wake of Pell's conviction.
Click PLAY below to hear the full interview
But the founder of Victim Group Actions Michael 'Advocate' tells Ben Fordham the Chief Justice didn't go far enough.
"The sentence, in reality, was disappointing. It certainly understates just the absolute tragedy and trauma that the two innocent victims suffered."
He says he believes Cardinal Pell's lack of remorse should have been taken into consideration.
"Criminal Pell has fought this tooth and nail.
"There's no remorse, there's nothing but arrogance which has been Pell's trademark for his whole life."
Click PLAY below to listen to the full interview