'I believe both': Melbourne Archbishop stands by George Pell in 'bizarre' interview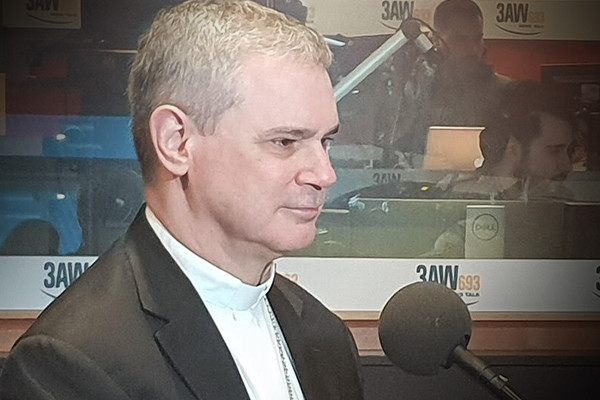 The Archbishop of Melbourne says he believes George Pell is innocent but claims he also believes the victim.
The disgraced Cardinal lost his appeal in Victoria's Court of Appeal on Wednesday, confirming an earlier guilty verdict.
In a wide-ranging interview with 3AW's Neil Mitchell, Archbishop Peter Comensoli says he will continue to visit Pell in jail.
But it was the below exchange that has confused and outraged listeners.
Peter Comensoli: I believe what George has said to me…
Neil Mitchell, interrupting: Which is that he didn't do it.
Peter Comensoli: …and I also believe that the man who has come forward to share his story of abuse in the setting of the church. Where that sits in terms of the particularities remains this challenging situation that our courts themselves have struggled with.
Neil Mitchell: I'm sorry I don't understand, do you believe him or not?
Peter Comensoli: Um, I believe the man has been abused, yes.
Neil Mitchell: But not by George Pell?
Peter Comensoli: I believe both.
Neil Mitchell: How can you believe both?
Peter Comensoli: Because our courts put forward a binary option; a binary option says either/or. But I genuinely think that I can take on my knowledge of the man in terms of George Pell and accept what he has said to me. I can also take on what I've heard of 'J' and what he's said in terms of abuse.
Click PLAY to watch the full interview
Ray Hadley says he is "astounded" by the "bizarre" interview.
"I'm as astounded as Neil Mitchell.
"Perhaps the Archbishop of Melbourne, Peter Comonsoli, would have been better off refusing to appear.
"That's quite bizarre audio coming from our sister station 3AW where Neil sounds incredulous.
"Don't feel bad if you're confused, because I'm equally confused."
Click PLAY below to hear Ray's comments in full