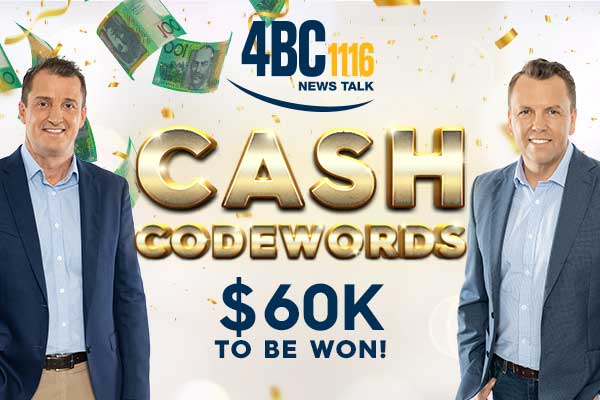 4BC is giving dedicated listeners the chance to win thousands of dollars in cash with 4BC's Cash Codewords.
It all happens on air, weekdays from Monday July 19 until Friday August 6.
Just be listening to Breakfast with Neil Breen, the Ray Hadley Morning Show, Deborah Knight in Afternoons and Drive with Scott Emerson.
Each day, they'll announce two "cash codewords" specific to their show for that day.
Then, sometime before the end of the show – they'll invite listeners to call in and tell them those two correct cash codewords.
131 873 for Neil Breen and Scott Emerson.
1 300 722 873 for Ray Hadley and Deb Knight.
If the successful caller can state the cash codewords correctly, they'll win $1,000 cash, instantly!
If they don't, they'll keep taking calls until the money is given away!
Winning couldn't be any simpler! 
Whether on air, online through 4BC.com.au, or through the 4BC app….the more you listen, the more chances you'll have to be a winner!
4BC's Cash Codewords – July 19 to August 6!
Note: Only the first two cash codewords stated will be accepted. No multiple guesses.